School Dog
As a school we value the well-being of all children and work hard to ensure that we are able to support all of our pupils to be resilient and confident young people, who are able to achieve to the best of their abilities. As part of our commitment to the children's mental health and wellbeing, we are constantly evaluating our practice and looking at further ways to support every child in school.
Over the past 12 months, we have been considering the potential impact a school dog could have on the children. We have done extensive research into the benefits a dog may bring. Research show that a school dog can increase confidence, improve attendance, reduce stress and anxiety, improve behaviour and develop responsibility and empathy in children.
From September 2022, we welcomed Ziggy our new school dog.
Ziggy is a 11 month-old black Labrador puppy who resides with his owner – Miss Russell and her family. We chose a Labrador for their excellent temperament with adults and children and their ability to be easily trained.
Since joining the family back in July, Ziggy has been on many adventures to socialise with both people and other dogs and has visited many different environments to acclimatise to different sights, sounds and smells. He has spent time over the summer holidays in school getting use to his new working environment.
Like Miss Russell, Ziggy works across Our Blessed Saints Federation and attends St. Luke's on a Monday and Tuesday and SSPP on Wednesday and Thursday. He spends time in the school office as well as having opportunities to explore the school, spend time both inside the classrooms and on the playground.
Since his training from the School Dog Mentor, Ziggy has started to visit classrooms. He has spent some time in Class 1 where everyone had an opportunity to stroke Ziggy and ask questions about him. He has joined Class 4 for their reading lessons; visited Forest school to see Class 1; joined the children on the playground at break time; met parents and children on the gate in the morning; listened to children read and worked with children 1:1.
Our Future plans for Ziggy's Wellbeing role at SSPP:
Greeting members of our school community on the school gate.
Attending Forest School
Working as a reading dog for pupils across EYFS, KS1 and KS2.
Support pupils' emotional wellbeing throughout the school day.
Supporting socialisation of pupils' and building positive attachments.
Helping pupil attendance.
Teaching children 'Ziggy breathing techniques' to support emotional regulation and calm.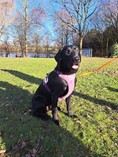 At St. Luke's, we recognised that the introduction of a school dog was very important, and we placed an emphasis on ensuring that we had carefully planned and delivered training by the Dog Mentor – Jenny Duckworth.
More information about the Dog Mentor can be found at: www.thedogmentor.co.uk/
Jenny Duckworth – the Dog Mentor – comes from a teaching background working within Youth Centers and Pupil Referral. Jenny adopted her own dog – Jock and went onto study neurolinguistics and create a programme to suits the needs of dogs, staff, children, and parents.
Jenny has worked with over 450 schools across the country and there are currently over 220 dog mentor dogs working in school every day.
Ziggy's training took place on Monday 3rd October at St. Luke's Catholic Primary school. Miss Russell, Miss Staniforth and Miss Evans attended the training and will be Ziggy's nominated handlers. 
Following the training, all classes have learnt how to be calm around Ziggy to keep everyone safe. The children have practiced their Ziggy breathing and have followed Ziggy's rules.
Ziggy's Guide to School:
Ziggy has asked all of the children to follow the Ziggy Rules to keep everyone happy and calm.
Only two people can be around me at one time otherwise I get nervous.
I like it when people stroke my back – not my head.
Remember Ziggy breathing before you come up to me so you are calm; I like walking not running to me.
Make sure that your classroom is tidy and there isn't anything on the floor which I might pick up and eat.
Eat your break and lunchtime snacks before you come and see me!
Try to be as quiet as you can so that you do not scare me.
Please do not say my name 'Ziggy'. I know this might sound strange but if everyone says my name just once a day, I will hear it nearly 200 times and I will then stop responding to my name.
If I am sleeping or lying down, remember to ask an adult if you can approach me as I might be feeling very tired and need some time to myself.