Curriculum
At St. Luke's, we provide a rich, meaningful and motivating curriculum with many links to real life. Our aim is to develop your child into an independent and lifelong learner. The teaching in the school is based on the needs of the child; to ensure that the learning and development of any child meets their individual needs.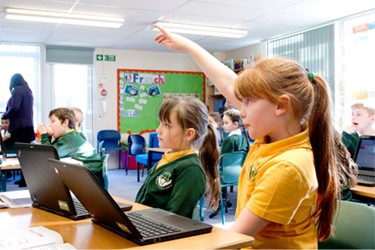 Our Curriculum Rationale
First and foremost, the individual pupil is at the heart of everything we do, taking into account background, SEND, ability and is based on the Gospel Values.
To ensure the individual pupil is at the heart of everything we do, taking into account background, SEND, ability and is based on the Gospel Values.
To ensure there are chances in most subjects to develop writing.
To ensure the curriculum is creative.
To include topics that will inspire pupils.
To set pupils work that challenges them at their level to develop as analytical problem solvers and critical thinkers.
To ensure that pupils have experiences beyond their normal range to allow them to have new experiences and develop life skills.
To allow children to learn about themselves as learners—to persevere and succeed, developing independence.
How is the curriculum taught?
Here at St. Luke's we now use the Cornerstones Curriculum as a basis for our topic work. We have customised Cornerstones to meet the needs of all our groups of learners and provide a broad, rich and deep curriculum.  However, we are continuing to design and refine our curriculum throughout this academic year.
The topics we cover provide a progression of skills for geography, history, science, DT and art and design that translate the statutory requirements of the National Curriculum into effective classroom teaching, whilst inspiring our pupils to learn.
Each topic is split into the four cornerstones; Engage, Develop, Innovate and Express.
Engage- we feel this is a highly valuable stage of learning as it provides our pupils with first hand experiences and overcomes some of the barriers to their learning
gain memorable first-hand experiences, such as going on a visit or inviting a special visitor into school
enjoy experiences to invoke awe and wonder
get an exciting introduction to a topic or theme
begin researching and setting enquiry questions
get lots of opportunities to make observations
develop spoken language skills
take part in sensory activities
have lots of fun to fully 'engage' with their new topic.
Develop
At the 'Develop' stage, children:
improve their knowledge and understanding of the topic
develop and practice their new skills
compose, make, do, build, investigate, explore, write for different purposes and read across the curriculum
research their own questions and those set by others
follow new pathways of enquiry based on their interests
complete homework activities that support their learning.
Innovate
At the 'Innovate' stage, children:
apply skills, knowledge and understanding in real-life contexts
solve real or imagined problems using everything they've learnt
get inspired by imaginative and creative opportunities
revisit anything not fully grasped at the 'Develop' stage.
Express
At the 'Express' stage, children:
become the performers, experts and informers
share their achievements with parents, classmates and the community
evaluate finished products and processes
link what they have learnt to where they started
celebrate their achievements!
We want to ensure that all the children enjoy and achieve their learning in all lessons. We ensure that whatever the children's strengths may be they have a chance to shine.
We are delighted that our new curriculum inspires our children, ties in beautifully into our Catholic ethos and develops their social, moral, spiritual and cultural understanding.
Class 1 Long Term Plan Cycle A 2023-2024
Class 2 Long Term Plan Cycle A 2023-2024
Class 3 Long Term Plan Cycle A 2023-2024
Class 4 Long Term Plan Cycle A 2023-2024
Class 5 Long Term Plan Cycle A 2023-2024
Assessment
We assess children according to whether they are working towards, developing or secure in their year group expectations. If they are secure, we aim for them to deepen their knowledge their year group expectations by being fluent, able to problem-solve, reason carefully and use and apply their knowledge in different contexts independently. Please see the national expectations target grids we will be using, within the subject areas below. If children are working towards or mastering their year group expectations, we have developed further target grids that will be stuck in the children's books. Please don't hesitate to speak to your child's teacher if you want any more information, or a copy of these grids.
Our Aims and Objectives for Teaching and Learning
As a Catholic school we believe in fostering mutual respect and Christian love. This will be evident throughout our school.
We aim to fulfil each child's potential by ensuring that learning is well planned, well resourced and dynamic whilst fully meeting the requirements of the National Curriculum.
Our teaching will provide a variety of techniques and styles, reflecting school/LEA policies and current educational thinking. The pace of learning will reflect the needs of the child and will be based on high levels of motivation and experience which will be clearly focused. Staff recognise the particularly important needs of children identified as having SEN or being gifted and talented.
We will provide positive interaction and support for the children through praise and encouragement. This will be reflected through oral feedback and interactive marking whilst strengthening relationships.
Classrooms will be stimulating, bright, well organised, well planned and resourced. Displays will be interactive, reflecting the National Curriculum subjects and will reinforce learning, whilst celebrating achievement and sharing the work of others.
Classrooms will provide an atmosphere that is safe, secure, calm and hard working where pupil and teacher expectations are high in terms of behaviour, achievements and self motivation (see Behaviour Policy on our

 

policy page).
We recognise the importance of assessment in informing planning, next steps for learning and ensuring continuity, progression and differentiation of work throughout each Key Stage.
We recognise the importance of structured intervention programmes, when the need of the child is not being met within the class room. Teachers and Teaching Assistants will liaise on pupil progress to ensure that pupil targets are met and that learning from the programmes is transferred into class work.
We place the highest priority on planning and working co-operatively to ensure that the curriculum is appropriately resourced and differentiated to provide continuity for all. We recognise that direct experience will enhance learning opportunities.
We recognise the importance of working in partnership with colleagues, parents, our parish and the wider community. We believe that this will enhance the children's learning for life.
Learning to learn:
Building Learning Power (BLP) is an approach to learning that we have begun to implement at St. Luke's Catholic Primary School. This approach was created by Professor Guy Claxton. It is based on the idea that we are all capable of becoming better learners. BLP applies this idea directly to the work of teachers in the classrooms, to provide a practical framework for fostering lifelong learning in all young people.
At St. Luke's Catholic Primary School, our school ethos is one of striving to be the best we can be, recognising that we all have different strengths and interests.
BLP allows us to nurture this ethos and build the children's learning power through a variety of strategies and techniques.
Read more in the guide below: