Curriculum for SEND
At St. Luke's, we have created a uniquely tailored curriculum that ensures that each child is at the heart of everything that we do. We provide purposeful, real-life experiences and opportunities to support all children to 'know more and remember more.' We recognise that all pupils learn differently and with this in mind, teachers and teaching assistants adapt the classroom to provide a learning environment that supports the different learning styles of all children.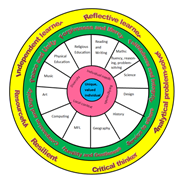 How do we create a learning environment that meets the needs of all pupils including those pupils with SEND?
Visual timetables
Table Top Resources for all lessons.
Working walls to help children 'learn more, remember more.'
Sloping boards and additional writing aids.
Coloured overlays and tinted books.
Pastel shades PowerPoints.
Breaking word down into manageable chunks and scaffolding.
Allocating laptops and access to Talk Tins.
Adjustable tables.
specialized dictionaries.
Reflection spaces and wellbeing support.
How do we make sure that pupils' with SEND are making progress across all curriculum subjects?
For each curriculum area, we look closely at how we can adapt provision to ensure that pupils' with SEND access and make progress.
We have created subject specific curriculum documents which teachers and teaching assistants can use to support the planning and implementation of the mini-adventures.
Curriculum Adaptation for SEND Documents:
Art and Design Curriculum provision for pupils with SEND –
DT Curriculum provision for pupils with SEND –
Geography Curriculum provision for pupils with SEND –
History Curriculum provision for pupils with SEND –
MFL Curriculum provision for pupils with SEND –
PE Curriculum provision for pupils with SEND –
Science Curriculum provision for pupils with SEND – St. Luke's